Choosing exterior colors for your home is tough decision, and one that you will live with many years to come. For best results, your new roof should compliment your home's exterior.When choosing a color or style, consider how it will blend with the home's brick,stone, siding or paint color. Neutrals are Natural, they blend well with a variety of colors, they stay stylish while "trendy" colors come and go. Today shingles are created combining a variety of colors, unlike the mono colors of shingles of years past. Which opens up new options for homes.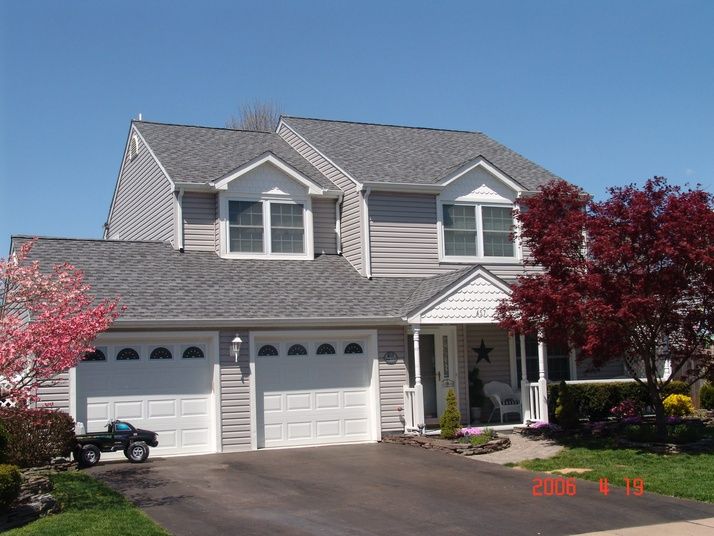 Here there are methods to successfully coordinate and select colors for the look you are trying to achieve:
Color Selection Method #1
Involves selecting colors within the same family, such as warm tones ( browns, beige's, creams, golds and reds ) used warm accents, trim etc.
Color Selection Method #2
Consists of contrasting light and dark colors out of different color families, for an eye-catching effect. (can look great, but make sure it is look you want to keep for many years).
Color Selection Method #3
Contrasting cool ( blues, grays, black, white ) and warm colors – is harder to achieve, but if one of the contrasting is neutral, it will be easier to accomplish. For instance, try using a warm color like cream or ivory with a cool neutral, such as grey or black ridge cap and drip-edge.
After you have chosen the method to create the look or effect you desire, following are the steps you can take to make final color selection.
Gather
Gather samples that represent the outside permanent colors of your home (brick,siding etc). You can use paper or fabric or whatever other sample you can find that is very close to the home exterior.
Consider your surroundings
Consider the environment and your neighborhood. Coordinating with your neighbors home should not be a prime consideration, but duplicating your neighbors would not be ideal either. Landscape colors may lend direction for colors schemes. You may want to consider coordinating or blending in with nature, or choose contrasting but complementary colors. Example, a log home in a wooded area, a green color blend or a brown color blend would work with the surroundings very well. Where as a red roof would be vast contrast.
Select Similar Color
Select similar colors in the same family as the existing permanent elements such as brick or stone, to produce a simple scheme which will make a small home appear larger. Example, A light brown shade of shingle on a Tan brick home.
Select High Contrast
Select high-contrast colors to produce a bold striking effect. These highlight architectural detail and designs; low contrast colors hide details, which may be desirable in some cases.
Using Color to Balance
Use color to balance the proportion and design of a home. Light colors make homes appear larger, dark colors make home look smaller. Dark colors outline architectural details against light backgrounds; light colors do the reverse. Once you have decided what color will create the desired effect, you have just a couple of items to consider regarding the style of shingle and exact shade. You should view actual full size shingle, we will bring these to you. View them at a distance, in natural daylight to get the full impact of the blending of colors and patterns. Keeping in mind the appearance of a shingle color may vary due to the conditions, and time of day. Wet weather or overcast conditions will change the appearance of a shingle.